The upgraded Cape Cod 5 Mobile Banking app is available starting Wednesday, October 14. We invite you to test it out during this preview period! For existing Cape Cod 5 mobile banking users, this will require you to install a new app, not just update your current Cape Cod 5 mobile app. To access it, search for "Cape Cod 5" in the Apple App Store or Google Play.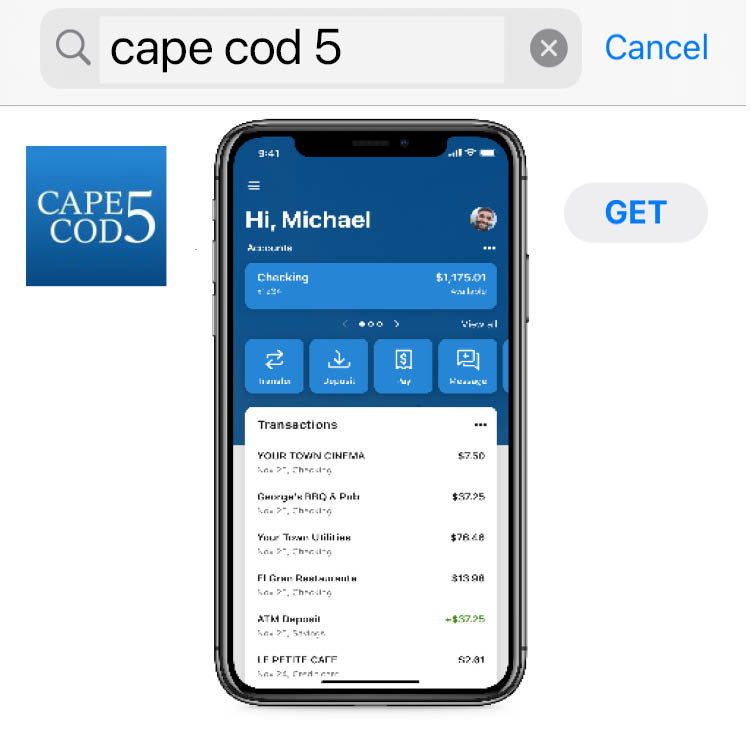 Between October 14-27, banking transactions can be performed in either Cape Cod 5 mobile banking app (new or existing), though they may not appear in both. For example, when performing or scheduling transfers in the app during the preview period, please note the following: 
   Transfers
Transfers previously created in Cape Cod 5 Online or Mobile Banking (either recurring/future dated) will not be viewable in the new app until October 27.

On Tuesday, October 27, all external transfer accounts that you previously set up will appear in the upgraded Online Banking and Mobile Banking app. Until then, existing external transfer accounts previously created in Cape Cod 5 Online or Mobile Banking will not be viewable in the new app. Please note that if you do choose to re-add an external transfer account which previously existed in your Online or Mobile Banking account, it will appear as a duplicate on and after October 27.

Transfers scheduled in the new app can only be modified using the new app.

External transfer accounts added in the new app will not be reflected in your Online Banking account until October 27.

   Accessing & viewing account statements 
In the upgraded Cape Cod 5 Online and Mobile Banking systems, eStatements must be viewed at the account level. This means that you will need to select an account from your dashboard first. There will not be a main menu item for Statements on the dashboard.

If your account was previously enrolled in eStatements, you will be able to view statements for the last 18 months. Otherwise, you will be prompted to enroll in eStatements to be able to view monthly statements electronically for that account going forward.

Click here to watch a video or view step by step instructions to learn more 
   Alerts
Alerts tied to profile changes are automatically set up. You will receive these to the email address you have on file with Cape Cod 5.

Balance and transaction alerts may be set up or modified within your Online or Mobile Banking account.

If you currently have Daily Balance Alerts set up, you will continue to receive them, however these cannot be modified in the upgraded Online or Mobile Banking systems.
   Bill Pay
Adding individuals to be paid through Bill Pay using the "Pay a Person" feature can only be done through Online Banking