Cape Cod 5 Banking Centers will be accepting contributions for Cape Cod Care for the Troops care packages now through November 20th.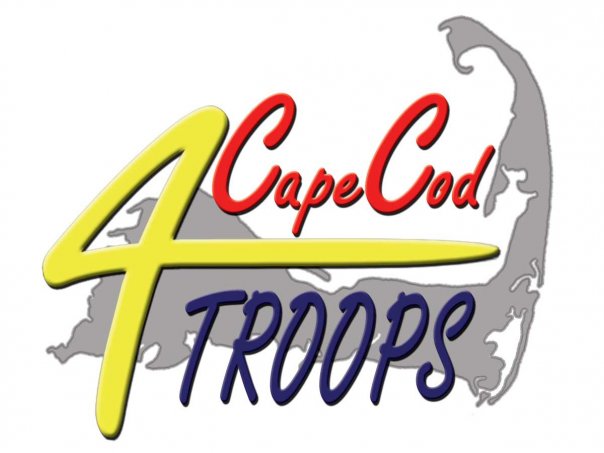 View Suggested Items for Cape Cod Cares for the Troops Care Packages
Travel sized items are best whenever possible. Items in bold and marked with an asterisk (*) are especially needed. 
Stocking Stuffers:

Personal Items:

Other Useful Items:

Mints*

Bug repellant

Batteries (AA, AAA & D)

Gum*

Deodorant

Current magazines

Candy*

Eye drops/wash

Deck of cards

Notes written in holiday cards*

Foot powder

First Aid kits

Small stocking stuffers*

Hand sanitizer

Flashlights

Food Items:

Hand wipes

Blank greeting cards (for writing to loved ones)*

Instant coffee packets

Kleenex

Hats/gloves

Cookies (store bought/packaged)

Hand & body lotions

Paper & pens

Little Debbie snacks

Mouth wash*

Socks

Microwavable popcorn

Q-tips

T-shirts

Microwavable soups

Shampoo/conditioner

Towels & washcloths

Powdered drink mixes (Kool-Aid,
Gatorade, iced tea, hot chocolate)

Shaving items*

Toys for children

Seeds, nuts and/or trail mix

Shower gel/soap

Travel games

Power bars

Sunscreen

Boot laces

Slim Jims

Toothbrush

Ziploc bags (all sizes)

Snack foods

Toothpaste

Moleskin
Review Banking Center Safety Protocols
For the safety of all, please note the following protocols when visiting a Cape Cod 5 Banking Center to make your donation.
Postpone your visit if you or a household member is feeling ill

Please wear a mask or face covering at all times while
inside a Banking Center

Maintain physical distance from others at all times

Hand sanitizing is required and sanitizing stations are provided for your use

Our staff is happy to assist you with any questions you may have
Thank you for your generosity!

Find a Cape Cod Banking Center near you
Please note that Cape Cod 5 Banking Centers on Martha's Vineyard and Nantucket are not accepting contributions for Cape Cod Care for the Troops care packages.