Market Perspective – Selloff Driven by COVID-19 Fears
Published February 26, 2020
Markets are down significantly this week as coronavirus fears rattle investor confidence. The outbreak of COVID-19 has spread to more than 37 countries and caused more than 2,600 deaths according to the latest data from the CDC. Global economic growth, which by many measures was beginning to accelerate, is under reassessment as containment efforts impinge on production and trade.
At this time there are still more questions than answers regarding COVID-19, and this is driving market instability.
Although the ultimate impact on China, other affected countries and global trade will be directly related to the magnitude and severity of COVID-19, history does suggest markets could recover relatively quickly. According to MSCI data, over the last 13 epidemics, global markets were positive within six months after initial breakout 70% of the time. The worst case was a 4.3% loss.
To expand on this point, the chart below illustrates the relatively limited influence epidemics have had on stock market returns in comparison to the economic recessions of early 2000-2002 and 2008-2009.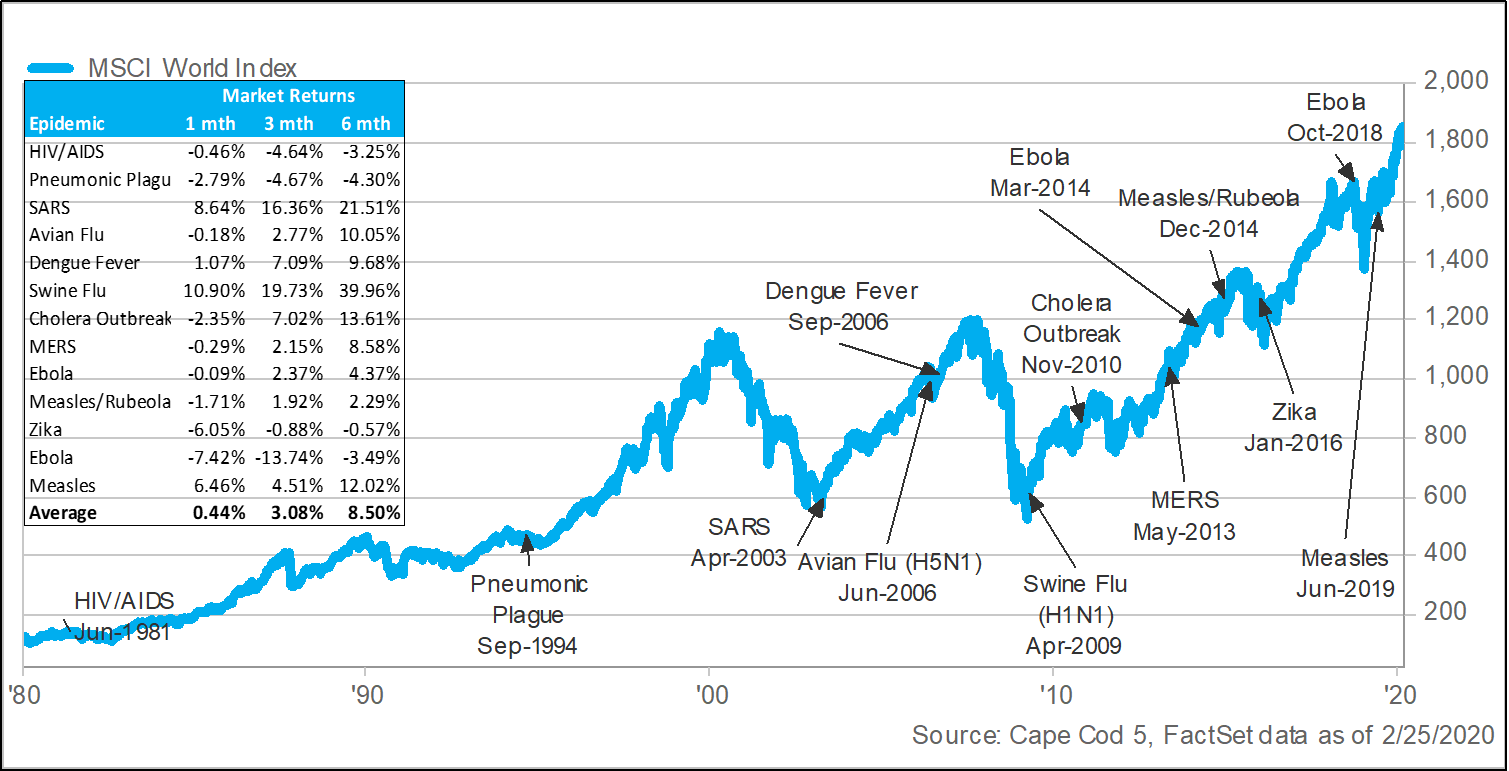 Understandably, if containment efforts fail to achieve their intended objective and the spread of the virus intensifies and extends, both short-term and long-term economic growth could be revised significantly lower and this could further affect the financial markets.
The Cape Cod 5 Investment Team is carefully monitoring the situation. We believe our higher quality, diversified approach to security selection provides some protection during these types of events. We are not currently recommending any material changes to holdings.
As always, please do not hesitate to contact your Investment Officer with any questions. We're always here to help. 
Contact our Wealth Team            More Market Insights from Cape Cod 5
NOT A DEPOSIT • NOT FDIC-INSURED • NOT INSURED BY ANY FEDERAL GOVERNMENT AGENCY 
NOT GUARANTEED BY THE BANK • MAY GO DOWN IN VALUE