Release Date:  May 19, 2016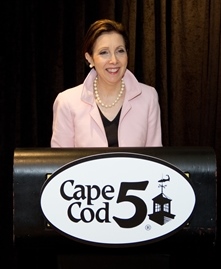 Orleans, MA – The Cape Cod Five Cents Savings Bank and The Cape Cod Five Mutual Company held their respective annual meetings on Wednesday, May 18, 2016.
The Bank reported strong financial results for 2015 with net income of $14.2 million, representing a 16.4% increase from 2014. The Bank's loan portfolio and deposit base continued to grow in 2015, resulting in total assets reaching $2.89 billion by the end of the year, a 6.5% increase from 2014. The Bank remains well capitalized according to all regulatory definitions.
"We continued to enhance our financial strength, serve new customers and expand relationships with existing ones, add talented employees, and expand our facilities and evolve our technology," said Dorothy A. Savarese, President and CEO of Cape Cod Five.
Cape Cod Five remained number one in deposit market share and residential mortgage market share in Barnstable County while also seeing increased market share within the other regions the Bank serves. The Bank's loan portfolio grew to over $2.4 billion, while deposits increased by 8.2%, surpassing $2.3 billion. The Bank's Trust and Asset Management Department ended the year with more than $1.0 billion in Assets under Management.
In addition to banking activities in 2015, Cape Cod Five continued to actively participate in the communities the Bank serves. Combined charitable giving from Cape Cod Five and its Foundation exceeded $1 million for the second consecutive year.
Cape Cod Five continued to grow in 2015, opening a Lending and Wealth Management Office in The Pinehills in Plymouth and conducting preparatory work toward opening a new branch on Martha's Vineyard in 2016. The Bank also purchased a building in Yarmouth for additional operations space to help accommodate Cape Cod Five's growth.
At the meeting, Jay H. Coburn of Truro, Robert D. Crane Jr. of East Falmouth, Shawn DeLude of Orleans, Linda Ann Markham of Hyannis, Wayne D. Petty of Hyannis, Jane Mello Pineau of New Bedford, Paul Rumul of East Sandwich, Lisa F. Sherman of Orleans, and Seth Wilkinson of Orleans were elected as new Corporators.