October 2, 2018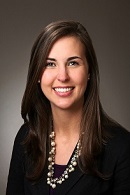 "Since joining the Bank, Stephanie has played a key role on the Marketing team, leading the development of many important Bank initiatives,including the launch of our new responsive website," said Dorothy A. Savarese, President and CEO of Cape Cod 5. "As we were separating Marketing into its own department, it made perfect sense to tap Stephanie to lead it," she added.  
Stephanie Dennehy joined the Bank in 2016 and most recently served as the Vice President and Marketing Director and, prior to this, as the Digital Marketing Officer. She holds a Bachelor of Science degree in Marketing and a minor in Computer Information Systems from Bentley University. Prior to joining the Bank, she held a variety of marketing positions focusing on digital enhancement and redesign at a financial services institution in Boston.  
"We recently folded the governance and coordination of Cape Cod 5's Community Engagement efforts, which had previously been part of Marketing, into the Executive Office to insure that our focus on supporting the health and vitality of the communities we serve will even more effectively leverage all of the resources the Bank has to offer," Savarese said.