Release Date:  May 3, 2018
Orleans, MA – Cape Cod Five recently presented a $5,000 donation to Habitat for Humanity of Cape Cod, awarded in honor of all Bank employees. As part of Cape Cod Five's annual Employee Appreciation Week, employees were asked to nominate a local nonprofit of their choosing, and nominees were then voted upon by all employees. This year, Habitat for Humanity of Cape Cod received the most votes and therefore was selected for this Bank grant.
"We are honored to present this donation in recognition of our more than 500 employees' dedication to making a meaningful difference in the lives of our customers and in our communities," said Dorothy A. Savarese, President and CEO of Cape Cod Five. "We are pleased that this donation will help support Habitat for Humanity of Cape Cod's important work providing affordable housing to individuals and families in our region."
Habitat for Humanity of Cape Cod was founded in 1988 as an affiliate of Habitat for Humanity International with the mission of working in partnership with families in need to build homes, hope, lives and community. Since its founding, the organization has developed 127 affordable homes in all 15 towns on Cape Cod.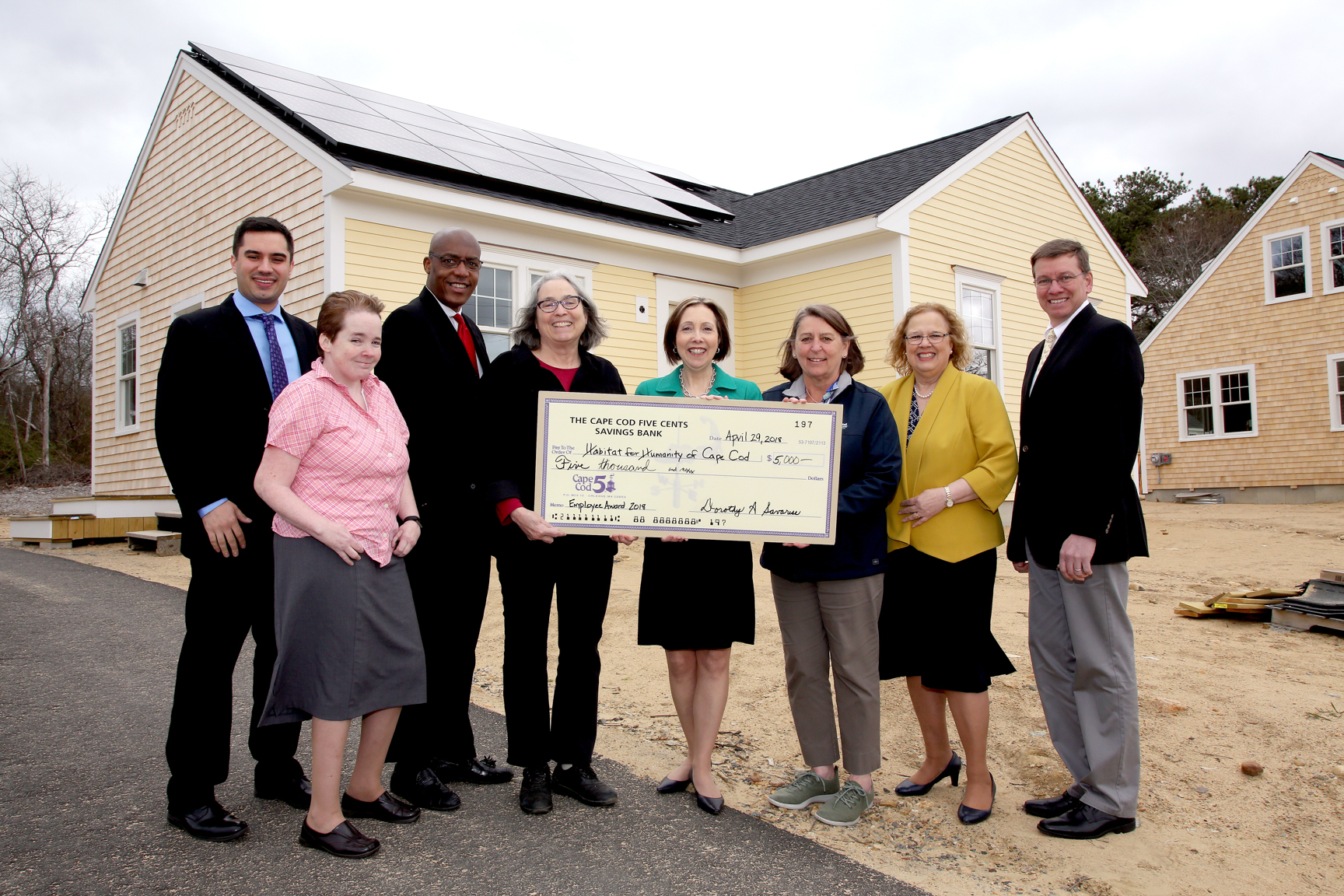 From left: Kareem Sanjaghi, Secondary Market Specialist, Cape Cod Five; Jennifer Leonard, Contact Center Specialist, Cape Cod Five; Wil Rhymer, Wellfleet Branch Manager, Cape Cod Five; Victoria Goldsmith, Executive Director of Habitat for Humanity of Cape Cod; Dorothy A. Savarese, President and CEO of Cape Cod Five; Wendy Cullinan, Director of Resource Development, Habitat for Humanity of Cape Cod; Debra Anderson, Estate Officer, Cape Cod Five; Michael Mead, Director of Systems Liaison, Cape Cod Five