Release Date:  September 13, 2016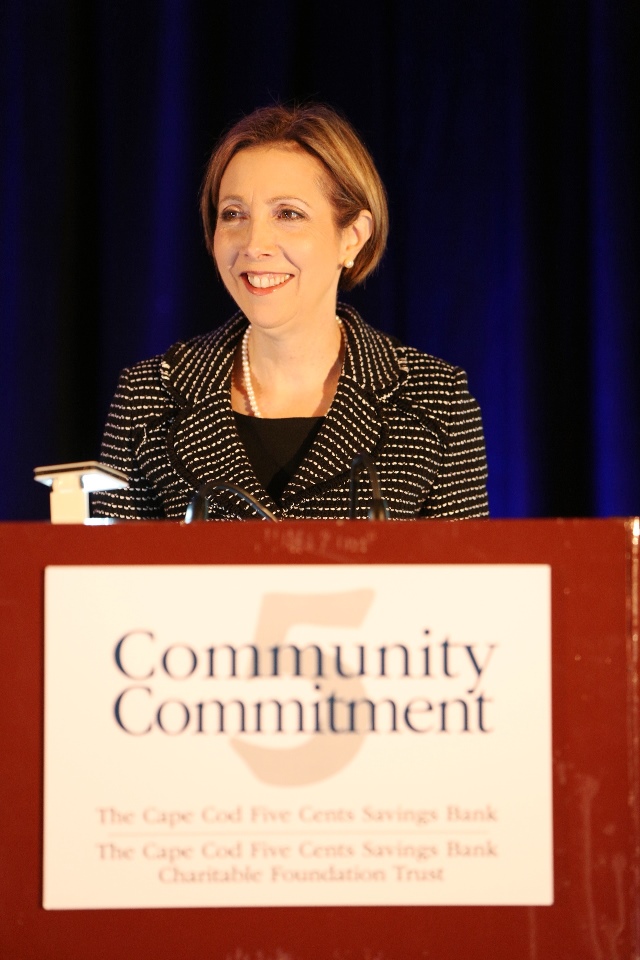 Orleans, MA – Making the most loans to residents of low and moderate income through MassHousing in Barnstable County; achieving Silver LEED Certification on the Nantucket branch; engaging with 82 nonprofits through employee board leadership; reaching 3,667 residents through financial education programs; and supporting over 550 local organizations with funding – these were some of the achievements that were celebrated at Cape Cod Five's Community Commitment Meeting on Tuesday, September 13, 2016 at the Resort and Conference Center in Hyannis.
"Cape Cod Five's Community Commitment is a promise to support the success of our customers and the vitality of our communities," said Dorothy A. Savarese, President and CEO of the Cape Cod Five and Chairman of its Foundation.
She noted that this is accomplished in five ways: through Community Banking, Responsible Business Practices, Corporate Leadership and Volunteerism, Financial Education and Philanthropy. Savarese reported that in the philanthropic arena, the Cape Cod Five donated over $1 million to local nonprofit organizations in each of the last two years and is on track to exceed that number in 2016. Since 2005, combined sponsorships and grants from the Bank and its Foundation have exceeded $10 million.
Savarese reported on the strong financial results of the Bank for the first six months of 2016. She noted that the Bank's results are illustrative of the commitment of employees, senior management, Corporators, and Trustees in serving each customer and each community with appreciation of, and respect for, their individuality.
The event was comprised of the Mid-Year meeting of the Cape Cod Five Mutual Company's Corporators and the Annual Meeting of The Cape Cod Five Cents Savings Bank Charitable Foundation Trust. It concluded with a reception to thank nonprofit organizations' executive directors, board members and regional educators who have been funded in the last calendar year by Cape Cod Five.