Release Date:  September 20, 2017
Orleans, MA – Providing more than $16,000 collectively from the Cape Cod Five family for hurricane relief; receiving an Outstanding CRA rating from the FDIC for the 9th consecutive time; being named MassHousing's #1 lender to low- and moderate-income borrowers in Barnstable County for the 10th year in a row; and celebrating employee board and volunteer participation with area nonprofits – these were some of the achievements that were highlighted at Cape Cod Five's Community Commitment Meeting on Tuesday, September 19, 2017 at the Resort and Conference Center in Hyannis.
"We know when we collaborate with our nonprofit partners, it exponentially increases the impact of our efforts, our energies and our resources, benefitting the people and the communities we jointly serve," said Dorothy A. Savarese, President and CEO of Cape Cod Five.
Savarese highlighted Cape Cod Five's efforts to continually adapt to change but concurrently remain steadfast in its commitment to serve the region's residents, businesses and organizations and to further its goal of supporting healthy and vital communities. This commitment is expressed in five ways: community banking, responsible business practices, corporate leadership and volunteerism, financial education and philanthropy.
During the meeting, Savarese reported strong financial results and healthy growth for the Bank during the first six months of 2017.
The event was comprised of the Mid-Year meeting of the Cape Cod Five Mutual Company's Corporators and the Annual Meeting of The Cape Cod Five Cents Savings Bank Charitable Foundation Trust. It concluded with a reception to thank nonprofit organizations' executive directors, board members and regional educators who have been funded by Cape Cod Five in the last calendar year.
A special presentation was held to recognize David Willard, Cape Cod Five's Director of Community Relations, for his 50 years of dedicated service to the Bank and his impact on the nonprofit community. In addition to a retrospective on Mr. Willard's long career, the Bank announced an award of $50,000 that will be used to fully endow a scholarship at Cape Cod Community College and a special gift to the Community Development Partnership, an organization he helped found, and a grant to the Housing Assistance Corporation.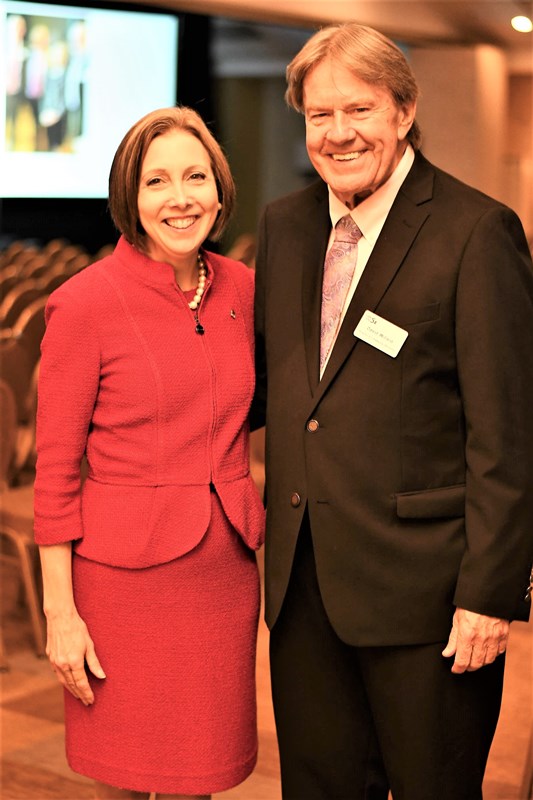 Dorothy A. Savarese, President and CEO of Cape Cod Five; David Willard, Director of Community Relations, Cape Cod Five