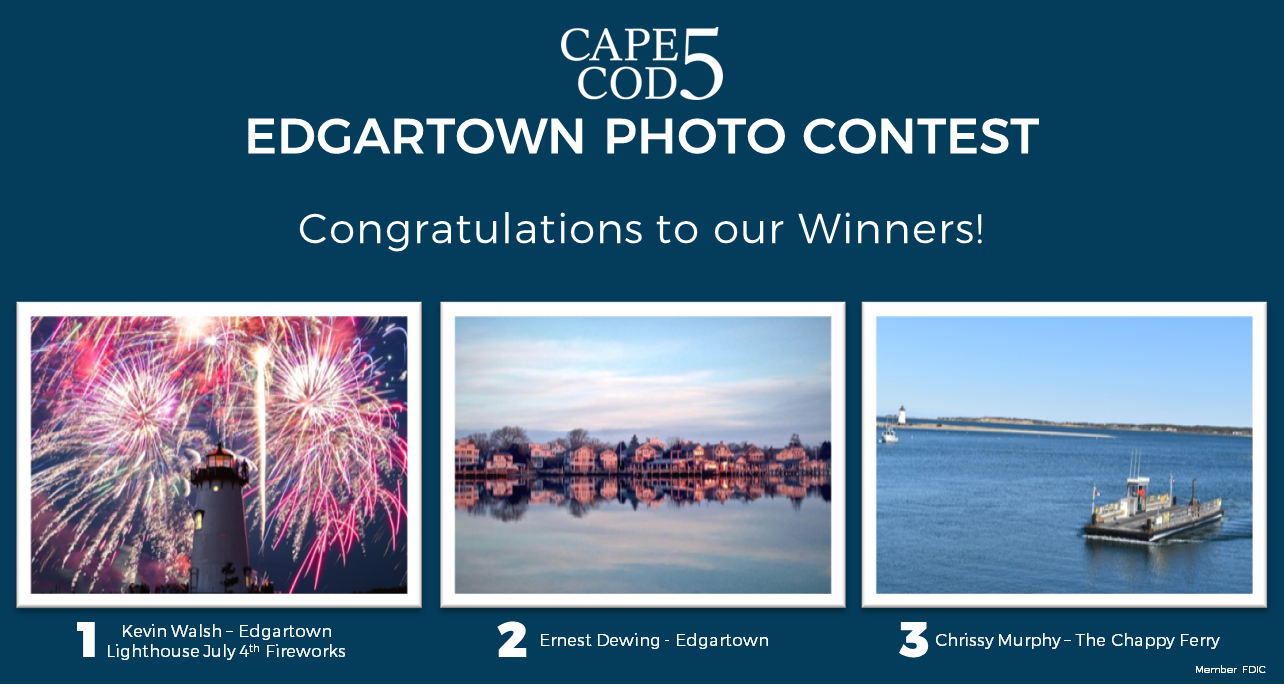 The votes are in! Congratulations to our top three finalists for winning our Edgartown photo contest!
Thank you to everyone who submitted their beautiful photos and who participated in the voting.
Click here to view the full official rules.
Cape Cod Five Edgartown Photo Contest
OFFICIAL RULES
NO PURCHASE OR ACCOUNT NECESSARY TO ENTER OR WIN THIS CONTEST, OR TO CLAIM A PRIZE. A PURCHASE OR ACCOUNT WILL NOT INCREASE YOUR CHANCES OF WINNING.
The Cape Cod Five Edgartown Photo Contest (the "Contest") begins at 12:01 a.m. EST on May 21, 2018 (the "Contest Start Date") and ends at 11:59 p.m. EST June 8, 2018 (the "Contest End Date"), (such period referred to herein as the "Contest Period"). The Contest is sponsored by The Cape Cod Five Cents Savings Bank (the "Sponsor").
1. HOW TO ENTER: Complete entry form on www.capecodfive.com/edgartown-photo-contest and submit photo(s) via email to [email protected]. The location of the scene must be in Edgartown and identified with your entry or entries. Please do not include people or pets in your photographs. Up to five photos per person may be submitted. Only electronic submissions will be accepted. Photos must be sent in .jpg format, and must be taken at a resolution of 300 dpi or higher. Sponsor reserves the right to crop or otherwise alter photo. In the body of your email, please include your name, address, phone number, email address, and the location(s) of your photo(s); if submitting multiple photos, please make clear the location of each photo by referencing the file name to the location listed in your upload or cover email. Photos submitted must be the entrant's original work. Participation in the Contest is voluntary and does not require you to purchase anything from or open or have an account with the Sponsor. Submitted photographs may be used, reused, copied, published, displayed, exhibited, reproduced, copyrighted and distributed for Bank purposes without notification. The Bank may identify the photographer by name and other identifying information as applicable. I also release the Bank from all liability for claims and demands arising out of its proper use of the photographs. All entries become the property of the Sponsor and will not be returned. You are providing your information to Cape Cod Five and not to Facebook, Instagram or Twitter.
2. PRIZE: Odds of winning depend on the number of eligible participants who submit a photo by the Contest End Date. Three photos will be awarded a cash prize of $100 each. Allow 3-4 weeks after validation of arrangement for receipt of prize. There is no substitution or transfer of prizes allowed. Winner will be solely responsible for all other expenses not specifically set forth herein. The Sponsor reserves the right to substitute prizes of equal or greater value. No other substitution or transfer of prize utility, quality or otherwise. In order to receive a prize, winner may be required to provide proof of identification acceptable to the Sponsor. Taxes on any prize, including income and/or sales taxes, are the sole responsibility of winner(s).
3. ELIGIBILITY: Contest is only open to any customer of Sponsor or non-customer who is a legal resident of the Commonwealth of Massachusetts at least 18 years old at the time of entry. The contest is open to amateur or professional photographers. Entries are limited to individuals only; commercial enterprises, groups, clubs, businesses, trusts or other organizations are not eligible. By participating in the Contest, each entrant accepts the conditions stated in these Official Rules, agrees to be bound by the decisions of the Sponsor and warrants that s/he is eligible to participate in the Contest. Employees, officers, and directors of the Sponsor, affiliates, subsidiaries, advertising, Contest and fulfillment agencies, and their immediate family members and persons living in the same household, are not eligible to participate in the Contest. CONTEST IS VOID WHERE PROHIBITED OR RESTRICTED BY LAW and is subject to applicable federal, state and local laws and regulations.
4. SELECTION OF WINNERS: Winners will be selected from all eligible entries received by the Contest End Date. Judging of all submitted photographs will be anonymous. The name of the photographer will not be known by the preliminary judging panel, which will narrow down the entries to no more than the top ten choices. Judging will be based on suitability of the subject, quality of the photography, and adherence to the purpose of the contest, which is to highlight scenes from the Edgartown area. The decision of the judges is final. The final choices will be put on our website at www.capecodfive.com/edgartown-photo-contest as well as https://www.facebook.com/CapeCodFiveMV/ so the public can vote on their top choices through 11:59 p.m. EST June 21, 2018. On or about June 22, 2018, the top three photos that receive the most votes will be the winners. In the event of a tie, the judging panel will decide the winner. Winners will be announced on Cape Cod Five's website, Facebook, Instagram and Twitter. The winners will be notified by mail, telephone or email using the information provided when submitting their photo within 30 days of the Contest End Date. In the event a winner does not accept the prize or does not respond or prize notification is not deliverable, the winner is ineligible and an alternate winner may be selected. The Sponsor is not responsible for and shall not be liable for late, lost, misdirected or unsuccessful efforts to notify winner. Winners agree to use of name, address, likeness, and/or prize information for Contest purposes in any medium without additional compensation to the extent permitted by law. Winners further agree to not authorize or allow any other business to use winning photograph.
5. CONDITIONS: The Sponsor and its agents, directors, officers, shareholders, employees, insurers, servants, parents, subsidiaries, divisions, affiliates, predecessors, successors, representatives, advertising, Contest, and fulfillment agencies, legal advisors and Facebook, Inc., Instagram and Twitter (the "Released Entities"), are not responsible for, shall not be liable for, and hereby disclaim all liability arising from or relating to: (i) late, lost, stolen, delayed, damaged, misdirected, incomplete or unintelligible entries; (ii) hardware or software program, network, Internet, computer or other malfunctions, failures, or difficulties of any kind, whether human or technical; (iii) failed, incomplete, garbled, or delayed computer or e-mail or electronic transmissions; (iv) any condition caused by events beyond the control of the Sponsor; (v) any injuries, losses, or damages of any kind arising in connection with or as a result of the prize, or acceptance, possession, or use of the prize, or from participation in the Contest; or (vi) any printing or typographical errors in any materials associated with the Contest. The Sponsor reserves the right, in its sole discretion, to suspend, modify or cancel the Contest should any unauthorized human intervention or other causes beyond the Sponsors' control corrupt or affect the administration, security, fairness or proper conduct of the Contest. In the event that proper administration of the Contest is prevented by such causes as contemplated above, the Sponsor will pick the winners from all eligible, non-suspect entries received prior to such action. By participating in the Contest, participants and winner agree to release, discharge and hold harmless the Released Entities, and all others associated with the development and execution of the Contest, from any and all losses, damages, rights, claims and actions of any kind arising out of or relating to the Contest, participation in the Contest, or travel to/from or attendance at any event relating to Contest, the prize, and/or acceptance, possession, use or misuse of the prize, including but not limited to statutory and common law claims for misappropriation or participant's right of publicity. This Contest shall be governed by Massachusetts law. By participating in this Contest, entrants agree that Massachusetts courts shall have jurisdiction over any dispute or litigation arising from or relating to this Contest and that venue shall be only in Boston, Massachusetts.
6. CONSENT AND LIABILITY RELEASE: By submitting an entry, participant gives the Sponsor full rights and use of the photo for any lawful purpose, including but not limited to marketing and promotional purposes. Participant represents and warrants that their submission is the original work of such participant, it has not been copied from others, and it does not violate the rights of any other person or entity. The Sponsor reserves the right to contact participant for additional permissions. The participant is responsible for obtaining, prior to submission of the photograph, any and all releases and consents necessary to permit the use of the photo in the manner set forth in the Official Rules without additional compensation. Failure to provide such releases upon Sponsor's request may result in disqualification at any time during the Contest and selection of an alternate winner. By submitting a photo via email or to the Sponsor for a chance to win the Contest, participant gives the Sponsor permission to use my name and/or photo for any purpose, including but not limited to marketing and promotional purposes.
7. WINNERS LIST: To obtain a copy of the Official Rules or the first name, last initial, city and state of the Contest winner(s) after the Contest End Date, send a separate self-addressed, stamped envelope marked "Cape Cod Five Edgartown Photo Contest Winners List" to Contest Sponsor, Attn: Kevin Howard, Chief Marketing and Community Engagement Officer. Requests for winners list must be received no later than 90 days from the Contest Date (residents of Vermont and Washington need not include return postage).
8. SPONSOR: The Cape Cod Five Cents Savings Bank, 19 West Road, Orleans, MA 02653. If you have any questions or issues with this Contest, please contact Sponsor's Customer Service Center at 1-888-225-4636.
9. NOTICE: The Sponsor reserves the right to prosecute and seek damages against any individual who attempts to deliberately undermine the proper operation of the Contest in violation of these Official Rules and/or criminal and/or civil law.
10. ACKNOWLEDGEMENT: This Contest is in no way sponsored, endorsed or administered by, or associated with, Facebook, Instagram or Twitter.
Copyright © 2018 The Cape Cod Five Cents Savings Bank. All rights reserved. Cape Cod Five and the associated logo are registered trademarks of The Cape Cod Five Cents Savings Bank. Any other trademarks in these Official Rules are used for prize identification purposes ONLY and are the properties of their respective owners.