September 3, 2019
5 Quick Tips to Business Cybersecurity
Regularly educate/reinforce established information security practices with staff.
Keep software updated and patched.
Periodically review physical and computer security control practices.
Utilize Cape Cod 5's Treasury Management Services to help mitigate and prevent account takeovers.
Be an ambassador – share this information with others.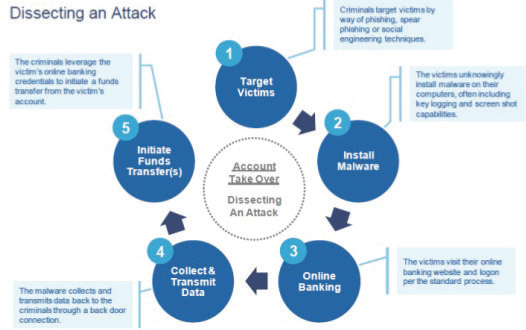 Credit: FBI IC3 Advisory. Sources: Kaspersky, Federal Bureau of Investigation and Massachusetts Institute of Technology
Key Practices to Protect Your Business
Krebs's 3 Rules for computer safety (Brian Krebs - Krebsonsecurity)
If you didn't go looking for it, don't install it.
If you installed it, update it.
If you no longer need it, get rid of it.
How to Respond if Breached
CONTAIN 
If compromised, disconnect infected devices from your network. Notify financial institutions to protect bank accounts.
ERADICATE
Professionally clean compromised devices.
RECOVER
Restore data from back-ups.
NOTIFY
Make law enforcement aware – local and FBI Internet Crime Complaint Center (IC3). Notify staff and customers.
REVIEW
Look at existing controls and make modifications as necessary. Retrain staff.
Resources
•    FTC Cybersecurity for Small Business: www.ftc.gov/tips-advice/business-center/small-businesses/cybersecurity
•    FBI Internet Crime Complaint Center (IC3): www.ic3.gov, www.krebsonsecurity.com