Common Scams Targeting Gen Z – Red Flags & How to Avoid Them
By Abigail Olsen, Marketing Intern at Cape Cod 5
June 20, 2022

Generation Z, an age group well-versed in everything smartphones and the internet, is unfortunately also too often on the receiving end of cyberattacks. The Federal Trade Commission (FTC) reports that in 2020 alone, individuals under 20 years old accounted for $70,980,763 in total victim fraud losses.
From phishing (fraudulent emails), smishing (fraudulent text messages) and spoofing (fraudulent phone calls), to romance scams, cryptocurrency scams or fake job and scholarship schemes, there is no shortage of fraud in our media saturated world. Cape Cod 5 is committed every day to protecting all members of our community – of all ages, walks of life and backgrounds – from the threat of scams and fraud by empowering them with information on trends and what to look for. Generally speaking, there are a few red flags that almost always indicate nefarious intent:
Someone offering you free money?  It's a scam.
Someone you've never met in person asking you for money, gift cards or your online banking credentials (usually in an urgent manner)?  It's a scam.
Someone contacts you through social media unsolicited?  It's a scam.
You receive a text message from a bank that you do not have a relationship with? It's a scam.
Below are a few of the most common scams and fraud attempts, their warning signals and tips to avoid them to help Gen Z (and others) safely protect their personal information and money as they navigate the digital world.
   1.  Fake Employment
With fake employment, one primary factor of a typical job search is reversed – instead of being paid for the job, employees wind up paying their fake employer. To achieve this, scammers reach out to people through social media, email, or text, telling them exactly what they want to hear: that they can have a low-effort job that pays a lot and can be done from home. Instead of making money though, victims generally must pay upfront for useless certificates, "taxes and fees" or supplies.  Two common examples of this type of fraud are "secret shopper" and "car wrapping" offers. If you are offered a "job" putting advertising on your car or to test customer service by purchasing gift cards and sending the numbers, ignore this… it is fraud. Here is an example: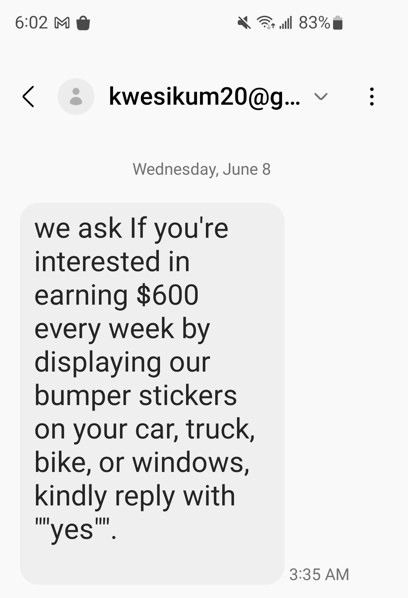 Similarly, fake investment opportunities are also driving younger generations into debt. With fake investment websites and applications to help track cryptocurrency growth circulating, many people are finding that they are getting scammed and are unable to take their invested money out of these apps. This led to a reported $575 million loss to crypto fraud in 2021.
Red flags:
You are sent a check and asked to return some of it via cash in the mail, wire, gift card or cashier's check.
You are offered a job for which you didn't apply.
Tips:
Steer clear of "get rich quick" schemes. Remember: if it sounds too good to be true, it probably is.
Slow down and do your own research.
   2.  "Sugar Baby"/Romance/Gaming Scams
With online dating apps rising in popularity, so too are romance scams. Romance, sugar baby and gaming scams involve a scammer fostering an online relationship with someone and leveraging it to get the victim to transfer money to them. If you're familiar with the Netflix movie The Tinder Swindler by Felicity Morris, then you know just how out of hand romance scams can become. According to the Federal Trade Commission, this is the costliest scam, with a reported $547 million lost in 2021 alone. Sugar baby scams are similarly defeating, being the #1 reported fraud type to Cape Cod 5 by people in their teens and twenties.
Red flags: 
They're quickly professing their love to you (sorry fairytale lovers, true love often does not occur this quickly…especially through a screen).
They're asking you to send them money for surgery, a plane ticket or travel documents.
They send you a check and ask that you keep some and donate the rest to a charity link they've included… the check will end up being rejected by your bank and you'll still be on the hook for what you sent the scammer.
They're asking for an upfront cost before promising to send you a large sum of money
Tips:
Never send money to someone you meet online, especially by wire transfer, gift card, P2P (think Venmo, CashApp or Zelle), cryptocurrency or cash. These are very difficult to recover.
Never give anyone your online banking credentials. Never provide credit card numbers or bank account information without verifying the recipient's identity.  
Never give anyone remote access to your computer or phone.
   3.  Phishing/Smishing
Despite their funny sounding names, Phishing/Smishing is a scheme that is meant to trick you into providing personal information to scammers. They take advantage of human emotions to trigger a response such as offering a prize, threatening a late fee or demanding a password change due to fraudulent activity in your account. In 2020, there were over 241,000 victims of phishing and related scams, which is enough people to sell out Fenway Park over six times! Here are two examples: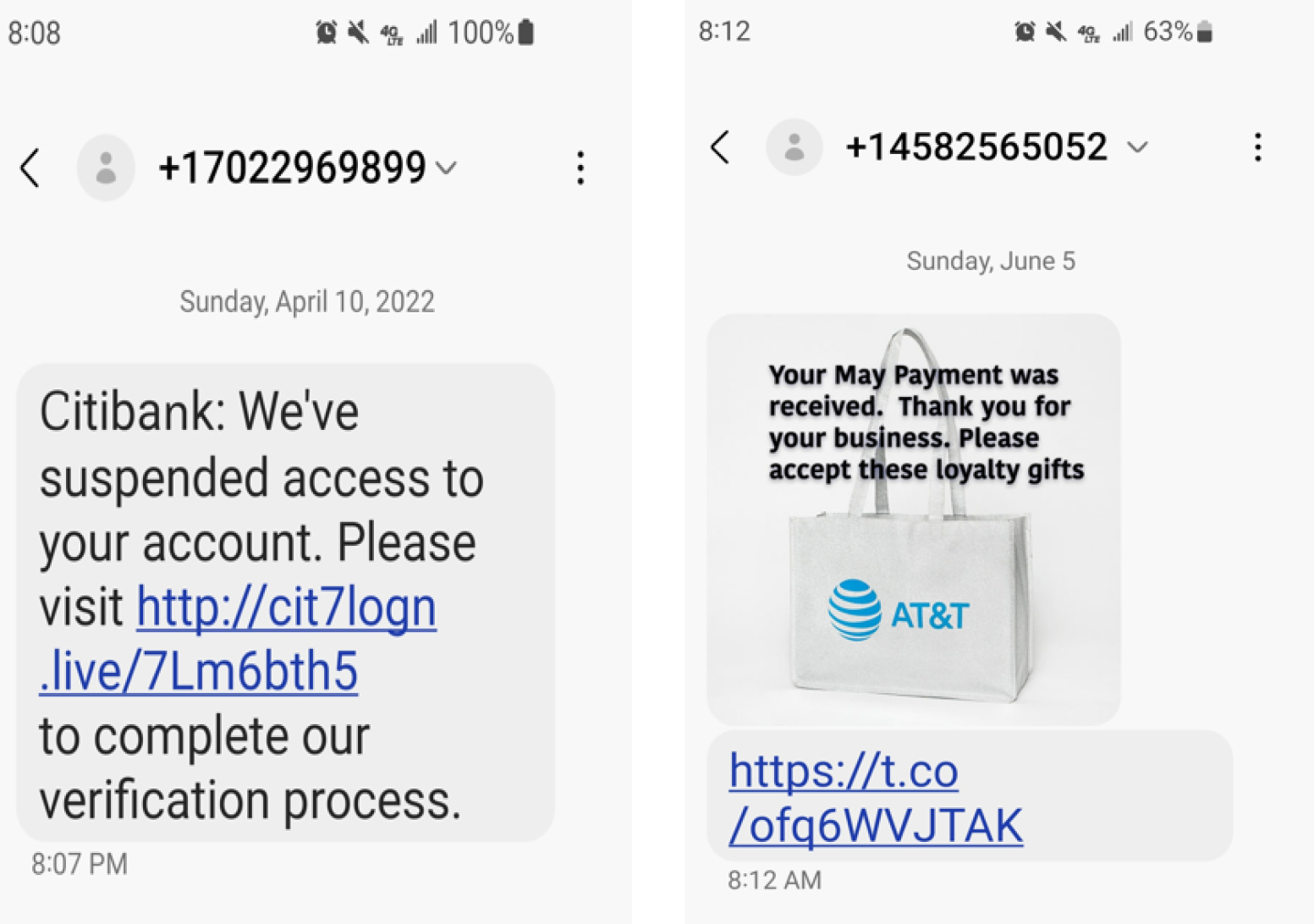 Red flags:
When looking at a message, check for: threatening language, suspicious links or attachments, unrealistic promises and urgency to download an attachment or click a link.
Urgent requests for sensitive information.
Is a friend or other known contact asking you unexpectedly for money online – email, text, social media?  Their account was probably taken over by a fraudster.  Call to verify/notify them.
Tips:
Make your accounts private. It may seem cool to have a large social media following now, but what good are 10,000 followers if 8,000 of them are strangers who may want to scam you?
Hover over a link to reveal the URL, if the name is unrelated to the topic or sounds suspicious, don't click it. All it takes is one click. Be smart and aware of your choices on the internet!
   4.  Scholarship and Financial Aid Scams
These frauds are conducted by scammers creating fake grant opportunities and asking for the applicant's checking account information to deposit the money into their account. From here, the scammers can steal the applicant's money and even their identity.
Red flags:
It costs money to apply.
It is unrealistic- government grants are rarely given to private citizens so it's very unlikely that you stumble upon one on the internet.
Tips:
Only use reliable resources to search for applications. 
Don't trust any unfamiliar resources offering you money.
   5.  Student Debt Consolidation/Relief Scams
This type of scam is led by an individual or company that urges consumers in debt to take out a new loan to consolidate their debts and heal their finances. Rather than getting rid of their debts, these attackers are taking advantage of the vulnerable consumers and taking their money with no intention of helping them out of debt.
Red flags:
They are asking you to sign a long-term contract or pay a large fee up front
Allusion to politics i.e., "Biden Student Debt Relief"
Tip:
Ask for details and do your research on the individual or company using the links provided below.
According to the Federal Bureau of Investigation, "The internet, for all of its benefits, also gives criminals and predators an easy way to reach young people," so we urge you to slow down and make sure that what you are engaged in is legitimate. As no one is immune from fraud attempts and fraudsters are very sophisticated these days, we also encourage you to share this with friends and family. For more information, please visit the Cape Cod 5 Security Center, FTC – How to Avoid Scholarship and Financial Aid Scams or FBI – Protecting Your Kids.