Release date: August 4, 2021
Hyannis, MA –
Cape Cod 5 recently announced a $25,000 grant from its Foundation to support Sustainable CAPE in their efforts to reduce hunger and expand food access on the Cape and Islands while benefitting local farmers. The funds will contribute to the organization's new online and mobile ordering system and Farmers' Market Coalition programs, which aim to expand access to and delivery of natural, healthy food to residents throughout the region. The system serves local families of all income levels, including participants in the Supplemental Nutrition Assistance Program (SNAP). 
"Sustainable CAPE continues to innovate in order to meet a critical need in our communities – access to high quality, nutritious foods. Especially given the heightened need over the past year, they have worked to bridge the gap between food growers and consumers in a way that benefits both while contributing to the economic stability of our region," said Dorothy A. Savarese, Chair and CEO of Cape Cod 5. "Cape Cod 5 is proud to support their efforts as part of our dedication to impacting the health and vitality of the communities we serve."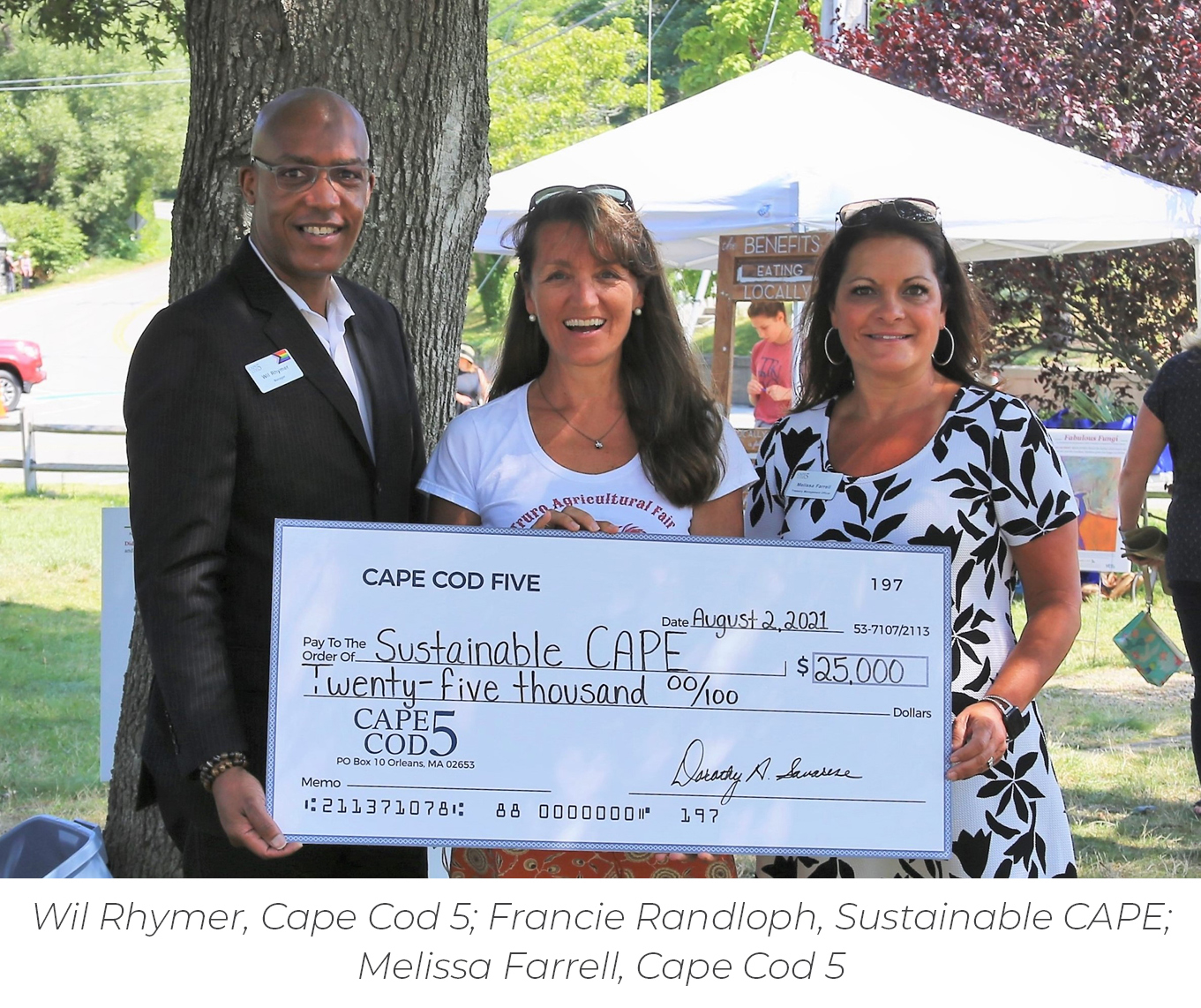 "We are taking lessons learned during the pandemic and using them to highlight and strengthen our local food system and shorten supply chains," shares Sustainable CAPE Founding Director Francie Randolph. "We build resiliency by developing new market opportunities for small and mid-sized producers while supporting and promoting the community's nutritional security, with a special focus on low-income neighbors. Cape Cod 5's multi-year pledge of support enables us to focus resources on supporting our harvesters, increasing food access for neighbors, and bolstering our local economy – thereby helping us all." 
This grant is part of Cape Cod 5's ongoing commitment to Sustainable CAPE, including its support of the organization's additional food security programs such as Project Gratitude, which increases access to healthy food for local veterans. 
Founded in 2009, Sustainable CAPE maintains its mission to celebrate local food while teaching about the health of our bodies, community and environment. The organization demonstrates the direct link between local food, sustainable health, wellness and the economy, as well as the importance of preserving the fragile land and water resources that directly enable the local harvest. 
About Cape Cod 5 
Founded in 1855, Cape Cod 5 is a community bank with over $4.4 billion in assets. Through its 26 offices, Cape Cod 5 offers a broad range of financial products and services to customers living and working on Cape Cod, Martha's Vineyard and Nantucket and in Southeastern Massachusetts communities. Products and services include consumer and commercial banking products; residential mortgages; investment management and trust services. Member FDIC. Equal Housing Lender. NMLS #401717. 
About Sustainable CAPE 
Sustainable CAPE – Center for Agricultural Preservation & Education is a 501(c)3 non-profit focused on building a Deeply-Rooted Food System through educational programming. The organization increases local food access and affordability while benefitting local harvesters. To date, Sustainable CAPE's programs have stimulated more than $1.6 million in spending in support of Barnstable County harvested food. Sustainable CAPE's education reaches more than 2,600 students each year; training, technical assistance and funding support a coalition of 9 farmers markets offering low income food access from Provincetown to Falmouth and on the Islands. Together this work strengthens our regional food system and promotes healthy and nutritious food for all. For more information or to get involved, see SustainableCAPE.org.