Release Date:  June 22, 2018
Orleans, MA – Cape Cod Five celebrated the opening of its new Banking Center at 238 Vineyard Haven Road in Edgartown with a ribbon-cutting ceremony on Tuesday, June 19, 2018.
"Cape Cod Five has been privileged to serve Martha's Vineyard for years, first from the Cape and then from our Vineyard Haven locations. Our new Edgartown Banking Center is a response to customer and community feedback," said Dorothy A. Savarese, President and CEO of Cape Cod Five. "We are excited to continue to expand our commitment to the Island and further serve as our customers' trusted financial partner with this new, convenient location."
Richard Leonard, Cape Cod Five's Regional President – Martha's Vineyard and third-generation Martha's Vineyard native, added, "Our full-service Banking Center in Edgartown provides greater convenience for Islanders to access all of Cape Cod Five's services, including retail banking, residential lending, wealth management and business banking, and allows us to better meet the needs of the Martha's Vineyard community."
The new Edgartown Banking Center is located at Post Office Square on the Edgartown-Vineyard Haven Road and is Cape Cod Five's third location on the Island in addition to the Bank's Lending and Wealth Management Office and Vineyard Haven Banking Center, which opened in 2012 and 2016 respectively.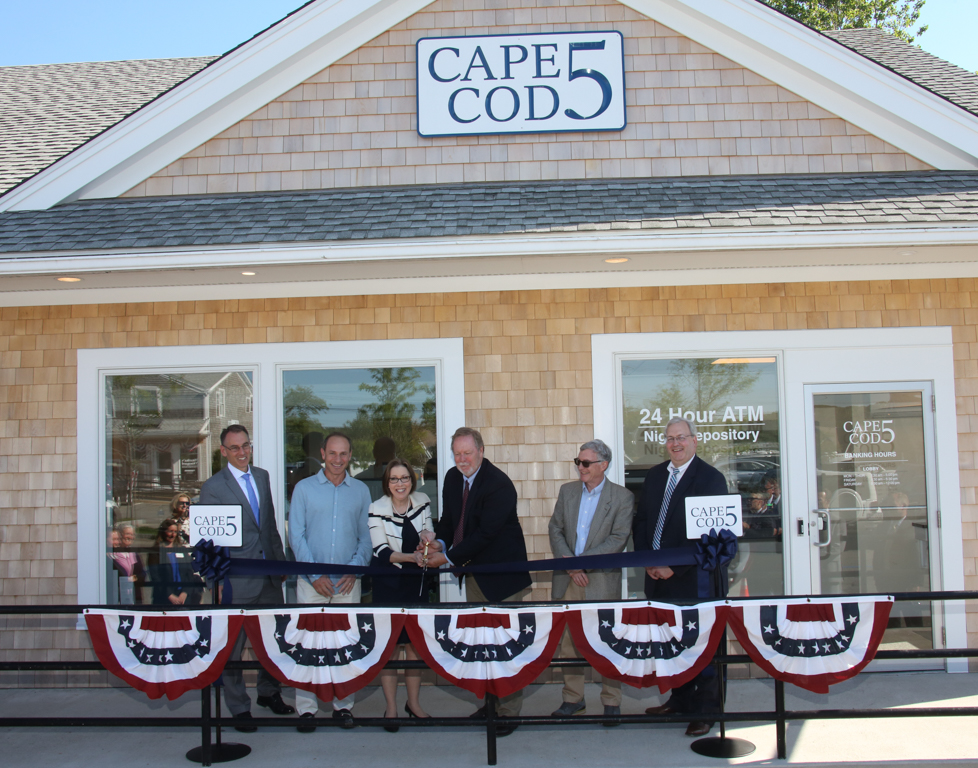 From left: Robert Talerman, First Executive Vice President and Executive Lending Officer, Cape Cod Five; Charles Hajjar, Edgartown Post Office Square Complex Owner; Dorothy Savarese, President and CEO of Cape Cod Five; Richard Leonard, Regional President - Martha's Vineyard, Cape Cod Five; Arthur Smadbeck, Edgartown Board of Selectmen; Chris Raber, Chief Real Estate Officer, Cape Cod Five