Release Date:  June 15, 2016
Orleans, MA – The Cape Cod Five Cents Savings Bank celebrated the opening of its newly acquired branch at 668 Main Street in Falmouth with a ribbon-cutting ceremony today.
The new branch office includes a three-lane drive-up and gives customers more convenient access to all Cape Cod Five products and services, including: checking, savings, wealth management, cash management, government banking, and residential and commercial lending. It provides additional convenience, comfort, and privacy for customers.
"We're happy to serve our customers from this more comfortable and functional location as we work with them to achieve their financial goals," said Dorothy A. Savarese, President and CEO of Cape Cod Five. "We appreciate the trust the residents and businesses of Falmouth have placed in us."
Participants in cutting the ceremonial ribbon included: Dorothy A. Savarese, President and CEO of Cape Cod Five; Thomas M. Evans, Vice Chairman of the Cape Cod Five Board of Trustees; Stephen Spitz, Commercial Loan Officer and Regional Manager; Meryl Watson, Mortgage Loan Officer; Joseph Hawley, Senior Financial Advisor; Patty Erickson, Falmouth Branch Manager; Julian Suso, Falmouth Town Manager; and Doug Jones, Chairman of the Falmouth Board of Selectmen. Many other Falmouth residents and town officials observed the ribbon-cutting event.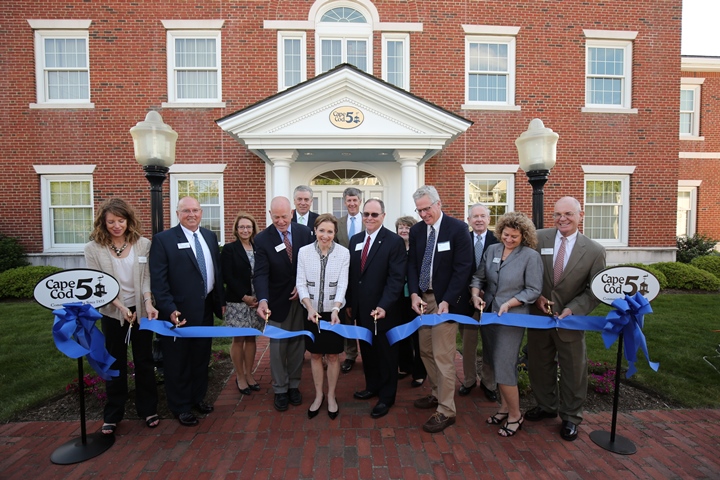 Photo (back, from left): Karen Gardner, Cape Cod Five Trustee; James Peterson, Cape Cod Five Trustee; Jack Dawley, Cape Cod Five Trustee; Katherine Fulham Parcels, Cape Cod Five Trustee; and William Doherty, Jr., Cape Cod Five Trustee. (Front, from left): Meryl Watson, Mortgage Loan Officer; Stephen Spitz, Commercial Loan Officer and Regional Manager; Thomas M. Evans, Vice Chairman of the Cape Cod Five Board of Trustees; Dorothy A. Savarese, President and CEO of Cape Cod Five; Julian Suso, Falmouth Town Manager; Doug Jones, Chairman of the Falmouth Board of Selectmen; Patty Erickson, Falmouth Branch Manager; and Joseph Hawley, Senior Financial Advisor