A Cape Cod Five Debit Card is issued instantly when an account is opened at any of our branches.
Make Purchases
You can save time by using a Cape Cod Five Debit Card instead to make purchases wherever Visa® is accepted. Just present your card at purchase, and the amount will automatically be deducted from your checking account. Every purchase will be detailed on your monthly statement and will include the amount of the purchase and merchant identification. 
Withdraw Cash
Use your card to withdraw cash at Cirrus® and NYCE® ATMs worldwide. Non Cape Cod Five ATM usage may be subject to a transaction fee. Other banks may also impose their own charges.
  Use your debit card with Apple Pay™
Click here to see how Apple Pay works
1. Add your Cape Cod Five Debit Card to your Apple device.
2. Look for the Visa payWave or Apple Pay symbol at point of sale.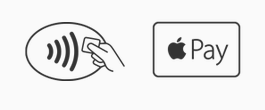 3. Use your device to make a purchase – easily and securely.
That's it! Apple Pay is available at no cost to Cape Cod Five debit card customers.
Click here to visit Apple's website for more information or instructions on setting up your device.
To Report a Lost or Stolen Debit Card
Contact our Customer Service Center 24 hours a day/7 days a week at 888-225-4636.